FLIPP Photographer Rob Palmer & Food Stylist Jacque Malouf have once again joined forces to create this delicious Western Star campaign. Made via our friends at TBWA Melbourne, Rob & Jacque once again prove they can make anything look delicious! The FLIPPsters wish everyone a happy Easter & hope you can enjoy lots of tasty treats.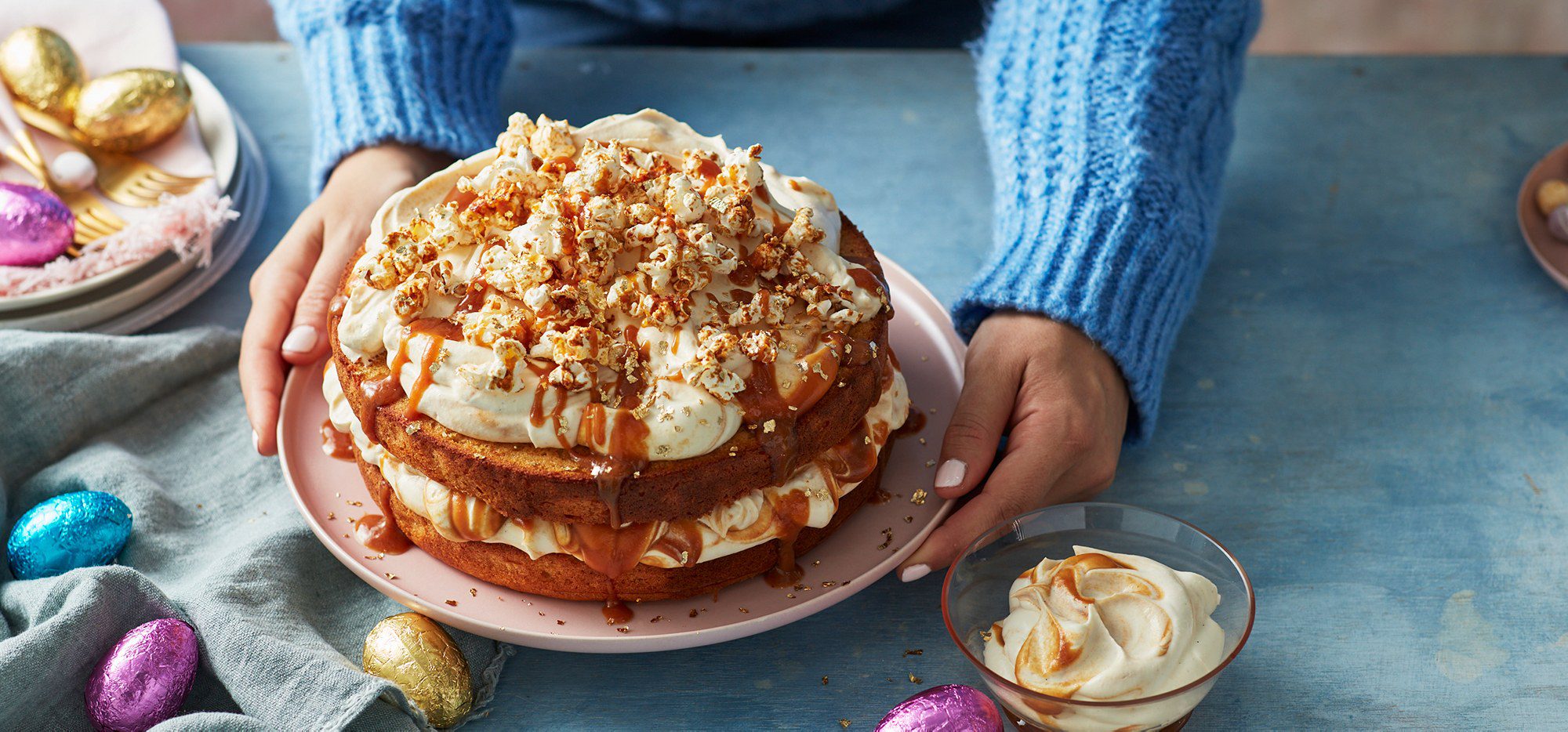 Creamy Caramel Popcorn Cake
Ingredients
Salted Caramel100g caster sugar150 ml Western Star Thickened Cream25g Western Star Chef's Choice Butterlarge pinch salt
Cake150g Western Star Chef's Choice Butter softened, plus extra for greasing150g caster sugar1 tsp vanilla extract3 eggs, at room temperature325g self-raising flour80g malt powderpinch salt175ml milk, at room temperature
Vanilla cream300ml Western Star Thickened Cream2 tbsp icing sugar, sifted1 tsp vanilla extract
To serveCaramel popcorn
Method:
For the salted caramel, place the sugar and 60ml water into a small saucepan set over a medium high heat. Gently shake the pan until the sugar dissolves. Increase the heat to high and cook until it becomes a dark amber colour, shaking the pan to get an even colour distribution.
Take off the heat and add the cream, butter and salt, stirring well to incorporate. Be careful, as it will spit. Set aside to cool to room temperature and refrigerate until needed.
For the cake, preheat oven to 180c. Grease and line 2 x 23cm round springform cake tins.
Beat the butter, sugar and vanilla together, then add the eggs, one at a time until incorporated.
In a separate bowl, stir the dry ingredients together and beat it to the butter mixture in several batches, alternating with the milk until you have a smooth batter. Pour into tins and bake for 20 minutes or until an inserted skewer comes out clean. Cool in the tin for 10 minutes then turn out onto a wire cake rack to cool completely.
For the vanilla cream, whisk the cream, icing sugar and vanilla together to soft peaks.
To assemble, place one cake onto a plate or cake stand. Gently stir a few tablespoons of the cooled caramel into the whipped cream, creating a ripple effect. Spread the top of the cake with half of the rippled cream and spoon over some more caramel. Place the second cake on top and repeat. Top with the popcorn and drizzle with some more caramel (you probably won't use it all). Serve straight away.
More Tips
To make your own caramel popcorn, place 30g cooked popcorn into a large bowl and drizzle over a tablespoon of salted caramel sauce. Stir to combine, place on an oven tray lined with baking paper and cook for 10 minutes at 180c.
Leftover caramel sauce can be refrigerated for a week. Try it served warm over ice cream, pancakes or French toast.
For a healthier version you can leave out the popcorn and top with sliced bananas or strawberries.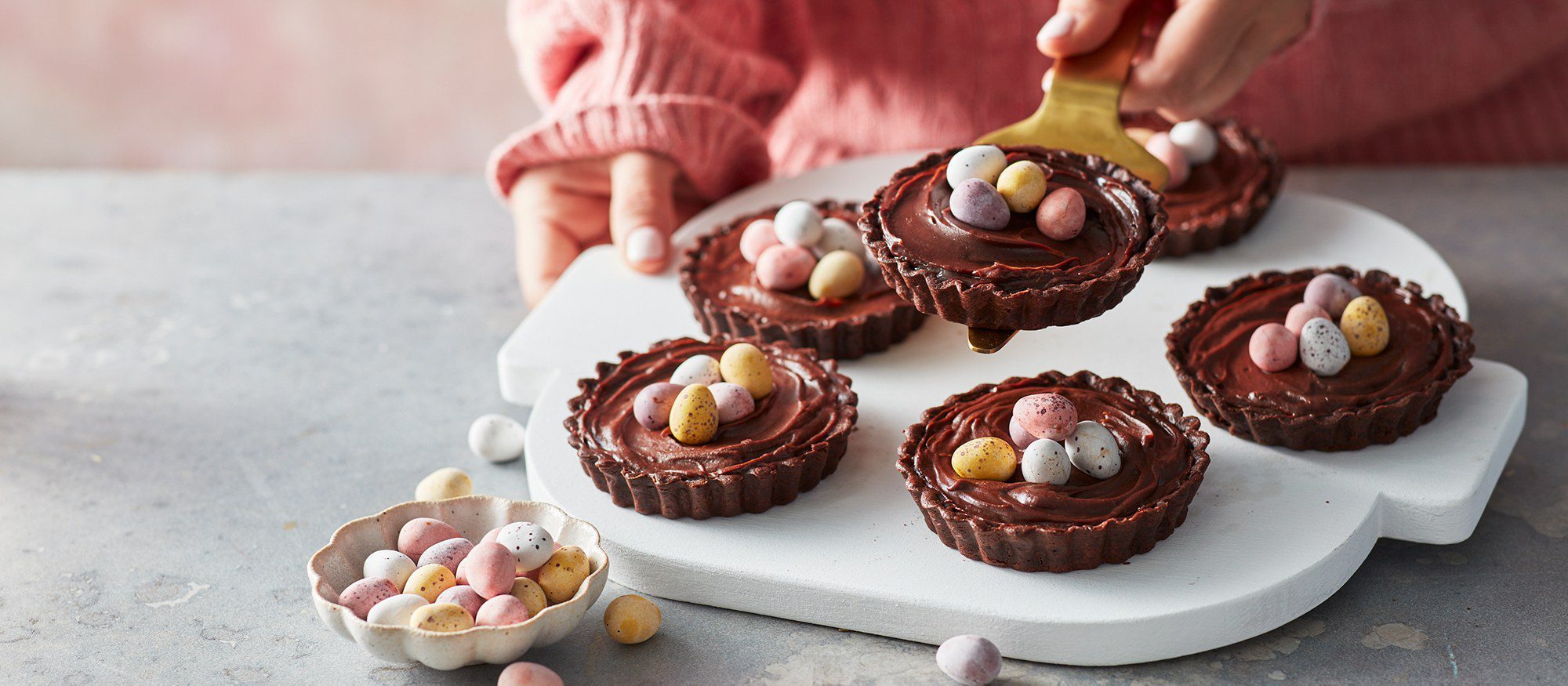 Velvety Chocolate Tarts
Ingredients
Ganache filling100g dark chocolate, chopped100g milk chocolate, chopped300ml Western Star Thickened Cream50g Western Star Chef's Choice Butter
Pastry135g plain flour40g icing sugar20g cocoa powderpinch salt100g Western Star Chef's Choice Butter, chilled and cubed1-1½ tablespoons iced water
Method
To make the ganache, place the chocolate in a heatproof bowl. Place the cream and butter into a small saucepan set over a medium heat, stirring until the butter melts. When starting to bubble, take off the heat and pour it over the chocolate. Leave for 5 minutes then stir until smooth. Refrigerate for an hour or until the ganache thickens slightly.
To make the pastry, place the dry ingredients into a food processor and blitz until combined. Add the butter and pulse until the mixture resembles crumbs. Add the iced water and process until it comes together into a ball.
Form the pastry into a disc, cover with cling film and allow it to rest in the fridge for at least 30 minutes.
Preheat the oven to 180c. Roll out the dough between 2 sheets of baking paper and line 6 x 10cm fluted tart tins. Trim the tops to create a smooth edge. Prick the bases with a fork to prevent the pastry from rising. Rest in the fridge for 30 minutes.
Place a piece of baking paper inside each tart shell and fill with baking beans. Bake for 15 minutes, remove the paper and baking beans and place back in the oven for 5 minutes or until the tart shells are cooked through. Set aside to cool.
Stir the ganache until smooth and spoon it into the tart bases, creating a swirly
More Tips
For a smoother top, you can simply pour the warm ganache into the cooked tart shells and refrigerate until slightly firm.
For a sweeter tart, you can use all milk chocolate. Or go for all dark chocolate for a deeper flavour.
Try serving with some whipped Western Star Thickened Cream and a sprinkling of cocoa powder.
You can swap out the chocolate eggs for a handful of fresh raspberries.
See more from FLIPP!